2012 Clark County Fair Schedule
It's time for the 2012 Clark County Fair!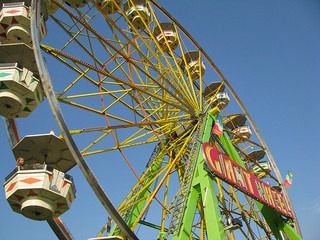 Today kicks off the 2012 Clark County Fair! It's time to enjoy some carnival rides, time to eat more calories than any one human should eat in a day. Kettle-corn, Dairy Women's Milkshakes, amazing sweet grilled onions covering a yummy burger from The Smokehouse. Corn on the cob, funnel cakes, snow cones and more… Time to see all sorts of animals. Animals like horses, cows, llamas, pigs, dogs, cats and even bees. It's a great time to enjoy our local artists and crafters in the Clark County Event Center with all their fun quilts, cards, sketches, flowers, photos, paintings, jams and baked goods. Also in the big hall are vendors selling all sorts of fun, cool, quirky things. Ya never know what you might walk out the door with?
In addition to all these fun things at the Clark County Fair, don't forget the great events of each day. The Grandstand Entertainment is FREE with your admission to the fair. The schedule is as follows:
Saturday August 4th: MOTO X – Big Air Bikes 2pm and 6:30pm (one of my personal favorites)
Sunday August 5th: Medieval Jousting 2pm and 6:30pm
Monday August 6th: Barrel Racing 2pm Roughstock 6:30pm
Tuesday August 7th: Mutton Bustin' 2pm Bull Riding 6:30pm
Wednesday August 8th: Truck Pull 2pm and 6:30pm
Thursday August 9th: Demolition Derby 2pm and 6:30pm
Friday August 10th: Tuff Trucks 2pm and 6:30pm (one of my personal favorites)
Saturday August 11th: Monster Trucks 2pm and 6:30pm
Sunday August 12th: Monster Trucks 2pm and 6:30pm