Since Dale wrote the blog post about Twilight Pizza in Camas nearly three years ago, another location has opened! Here is what happened on a recent visit to their second restaurant location.
My husband and I recently celebrated our one year engagement anniversary with a special traditional meal in our relationship: pizza! When we arrived at Twilight Pizza Bistro's new location off 192nd Avenue on the Camas/Vancouver border, we waited our turn to be greeted. Once acknowledged by the hostess, I requested to be seated in our friend Tim's section. As we waited to be seated, we visited with the co-owner Morgan and some friends of ours who had just finished their meal.
Tim greeted us and I ordered a glass of water, while my husband ordered the "Blue Monster," which is not found on the written menu. It's simply a glass of Sprite with a shot or two of blueberry syrup. My sip was cold, sweet, and delicious! The water was good – and I can be very picky about the water I drink. This water was so tasty; it didn't need a lemon to cancel out the rusty pipe taste.
We shared the Twilight Salad, which the kitchen staff kindly split for us at no extra charge. It was a simple, delicious salad made up of dark leafy green lettuce, crisp bacon, blue cheese, a flavorful vinaigrette dressing and a generous amount of toasted and sweetened walnuts. I recommend sharing this salad with a friend because it is so large, two people can easily enjoy it and feel satisfied.
Our pizza order consisted of two different pizzas built onto a 16" extra-large pizza crust. I was thankful to use my "Free XL Pizza" coupon I had won – normally we wouldn't order such a gargantuan pie of deliciousness. Maybe next time I will try the gluten-free crust, which my friend says is thin, crispy and delicious.
After considering The Bill Murray, The Flamin' Lips and Good Karma, I went with Server Tim's suggestion and ordered the Good Karma pizza. My husband ordered The Jester, which is built on a base of barbeque and traditional red sauce with mozzarella, pepperoni, Canadian bacon, chicken, bacon, Italian sausage, pineapple, garlic and HONEY! Honey may sound like a surprising ingredient, but it is so subtle that it works perfectly to blend all of those incredibly savory flavors together.
My pizza consisted of sun-dried tomatoes, roasted garlic, zucchini, artichoke hearts, sweet onions, mozzarella, and creamy goat cheese on a basil-pesto base. The crust was chewy and near-perfection, and after I added a sprinkling of salt, it was a mighty fine green pizza. On the last part of my second slice, I discovered the sun-dried tomatoes. I didn't remember reading that they were on the pizza, so I was happily surprised. I don't think the sun-dried tomatoes were distributed evenly on the pizza, but I understand that happens when two pizzas are built together on the same crust. After eating so many green and tasty vegetables with the pesto sauce, I was craving some classic red sauce. I requested a small container, and Tim obliged. He even had it heated up for me, which made dipping my pizza into the sauce more enjoyable. The red sauce changed the flavor of the pizza considerably, but eating the pizza with or without the red sauce was delicious. Sometimes I just need my red sauce fix!
We were only able to finish three slices each, so our server boxed up our leftovers and my red sauce into a pizza box. Then, he surprised us with a celebratory dessert of our choice! We agreed to try the Rhubarb Crumble and it was fabulous! The rhubarb was very tender, hot and was coated in the perfect amount of tangy sauce. My favorite part was the crumble topping with pieces of walnuts embedded into the dough. The scoop of vanilla ice cream slowly melted as it sat atop the hot fruit crumble. The presentation was beautiful – our ramekin was served on a white platter that included a dollop of whipped cream, fresh mint, and a drizzle of caramel sauce. Inserted into the ice cream was a decorative sculpture of melted sugar. Like children, my husband and I gobbled it up nearly as fast as we ate the rhubarb crumble.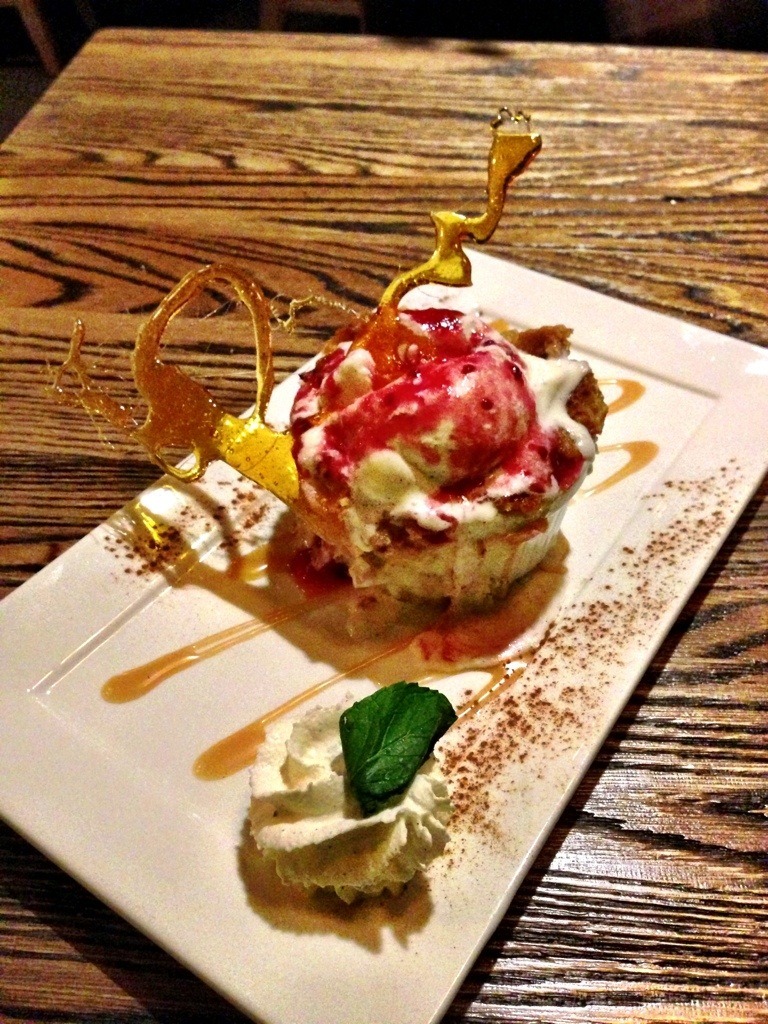 To make our evening more special, our server changed the Pandora station playing overhead to a channel based upon our favorite band! That explained why the music was so good that night, and we were floored when the very song we got engaged to was played for us.
This was a wonderful evening and we were made to feel so valued and special. I think we proved that not all pizza places are equal because you can have a romantic, celebratory meal at a pizza joint!