My life and CrossFit, OVER FIVE YEARS later! I've actually been doing CrossFit almost 6 years now! I remember when I first started and asked if the soreness ever goes away. I was told, you get used to a certain level of being sore. I didn't understand that then, but I do now. I don't "hurt" like I did in the early days, but I definitely know when I've had a good workout because my muscles are fired up and quite aware of what I've done. But it is a good "pain" and not something bad. It means I'm continuing to get stronger and healthier. Fitness is a lifelong journey. I found a wonderful new CrossFit home over a year ago in Tectonic CrossFit out in the Fishers Landing area of Vancouver, WA. The coaches are wonderful and all my fellow members have been so embracing and encouraging. I'm thankful to have found another amazing box! Stay tuned as this journey continues…
ONE YEAR UPDATE!!!: Today marks my 365th day of CrossFit. One full year! I'm happy to report I'm still working out 3-4 days per week for 60 minutes each day. I am blown away at how much stronger I've gotten over the last year. Physically and mentally. My stamina is much better as well as my cardio strength. Am I "there" yet? Nope. This is a lifelong change that's happened in my world. I'll continue pressing on and working to get healthier and fitter.
I figured I'd better share a few stats about this first year. I've lost at least 30 pounds (I wish I'd done a body composition test in the beginning to really know how much "fat" I've lost). I've lost at least 20 inches off my body. I was pushing the outer limits of a 36 jean and now comfortably range in the 32-33 range of pants! I was safely in the XL shirt range and I'm now wearing a Medium shirt!
I have competed in the CrossFit Games Open for the first time. I had a ton of fun doing it. Who knows, maybe someday I'll get my name on my own shirt for the CrossFit Games Masters division? A guy can dream, can't he? ;) I've made so many new friends locally and around the country plus inspired a bunch of people to begin their own CrossFit journey! This all makes me so happy. Below is a photo of me just after I started and me now, one year later. Pretty amazing huh!
TEN MONTH UPDATE: The following was posted on my Facebook page… On this day 10 months ago I walked into a new chapter in my life. I journeyed into CrossFit Acro (doors I'd been fighting against for at least 9 months because I knew I "couldn't do it". I posted the following on my friends wall last night and thought it was appropriate to share as it beautifully sums up my first 10 months of CrossFit…
Exactly 10 months ago I could barely do one single regular squat.
9 months ago I could barely do a squat with my hands over my head.
8 months ago I could barely do an overhead squat with a PVC pipe.
7 months ago I could barely do an overhead squat with the 15 pound training bar.
6 months ago I could barely do an overhead squat with the ladies bar.
5 months ago I could barely do an overhead squat with the men's bar.
4 months ago I could barely do an overhead squat with 10 pounds on each side (65# total)
3 months ago I could barely do an overhead squat with 80 pounds total.
2 months ago I could barely do an overhead squat with 95 pounds total.
1 month ago I could barely do an overhead squat with 110 pounds total!
Can't wait to see what's next! Keep working. Keep pushing. Focus on form! Do NOT rush anything! You have a lifetime to master this and any other movement. #onedayatatime
SEVEN MONTH UPDATE: Here I sit, exactly 7 months since that first day I walked in the door of CrossFit Acro. I cannot believe the journey I've been on. I am now down 25 pounds and have lost 12 inches around my neck, waist and hips. 12 INCHES! I can no longer fit into any clothing I owned 7 months ago. All my shirts are too baggy. I've had to buy a few pairs of jeans since ever single pair I once owned now fall off of me. My energy is so much better. Snoring is something I no longer do! At the end of January I actually competed in a CrossFit competition in Olympia. It was called Chaos at the Capitol 2.0 and I had so much fun (even though I was scared out of my mind going into it). I was part of a 4 person team and we all did our best, exceeded all goals set and had a blast. The family aspect of CrossFit and especially my new family at CrossFit Acro are absolutely amazing. I've made some really deep friendships in a very short time and so appreciate everyone there! They motivate me and encourage me on a daily basis. If you had asked me 7 months ago what the CrossFit Games were I couldn't have told you and last week, I signed up for THE OPEN of the CrossFit Games! Relax, you won't be seeing me on television anytime soon competing at a world class level but I have successfully completed WOD 14.1 and surpassed my goal for that first of 5 workouts. I'll be excited to see how I do this year and then compare it to my times/scores in the years to come. I need to remind myself, it's only been 7 months, I'm now 44 years old and it had been a VERY LONG time since I'd done any physical activity. Stay tuned for more updates as the months and years move along…
THREE MONTH UPDATE: Today is November 5th, 2013 and I thought an update might be nice. Yes, I'm still going to CrossFit Acro 4 to 5 times per week. Yes, I'm still loving it! Yes, it's still an incredible workout and challenges me each and every day. Yes, I'm making some wonderful friendships with all the amazing people at "my box". I've introduced several friends to the world of CrossFit and they too are loving it which makes me happy. Physically I'm getting stronger each day. As of this morning I've lost 18.5 pounds and about 8.5 inches from my neck, waist and hips! I've added muscles all over my body and am doing exercises I never imagined I could do. I'm down several notches on the belt and have had to retire quite a few pairs of jeans that fall off me when I wear them. I'm also finding clothes in my wardrobe I've never been able to wear that now fit me. I'm snoring MUCH less which makes my wife very happy. Think you can't do it? Think again. You CAN do it! Questions, I'm only a phone call away…
WHERE MY JOURNEY BEGINS: On August 5th, 2013 I walked into a new chapter in my life. I entered a land of words and movements I'd never experienced before. I entered into the world of CrossFit!
You may ask, how did I get here? Let me tell you. I graduated from Mountain View High School right here in Vancouver, WA in 1988. That's 25 years ago for those trying to do the math. Yes, that means I'm in my 40's now and things seem to not be quite like they once were. I've been able to maintain a weight for many years that I wasn't overly happy with but it was "close enough". Well, this number has always began with a 1 and I noticed that all of a sudden it crept up to a 2… This was not okay but I still wasn't doing anything about it. Sure I'd occasionally eat a little less or take an occasional walk but that wasn't cutting it. Without realizing it I had hit an all time high on the bathroom scale! 210!!! I was 210 pounds? How could that be possible? Well, as I thought about it my belt was no longer comfortable one loop higher than I normally wore. Several pairs of my jeans seemed to have shrunk quite a bit in the dryer. Some of my favorite shirts seemed to also have shrunk at the dry cleaners. Hmmm… Could it be me?
For several months I'd been bantering with my friend Pat on Facebook about this thing he did called CrossFit. He'd invited me to come but I was sure it was way too difficult and I wasn't in good enough shape to go do that. I'd seen the photos of him and others lifting weights and jumping on boxes and all sorts of other things that would be way too hard for out-of-shape me. He told me that wasn't true but I wasn't convinced. Flash forward to August 3rd, the night of our 25th Class Reunion. Several prizes were given out that night and yours truly ended up with a free trial at CrossFit Acro where Pat works out. Ugh! Now what do I do? Excuses seemed to wither away as the hours passed by on Sunday. Monday was coming… Late Sunday night Pat and several other friends began "encouraging" me to get started first thing Monday morning. I finally thought, no time like the present!
10AM. Monday morning. August 5th. I hesitantly walked into the box (in CrossFit it's called a box, not a gym) to do my first ever WOD (workout of the day). Her name was was "Kelly". Yes, a lot of the WOD's are named after girls. Don't let that fool you, there's nothing girly about these. 5 rounds of a 400 meter run, 30 box jumps (guys have a 24″ box) and 30 wall balls with a 20 pound ball being thrown 10′ in the air. Yeah, right! Thankfully one of the beauties of CrossFit is the fact that everything can be modified to your ability and physical health. The owner/coach Steve was more than welcoming and encouraging. He quickly helped me understand each movement and what he would like me to do as a modified "Kelly". Right off the bat he told me he only wanted me to do 3 rounds instead of the 5 everyone else would be doing. 24″ box jumps were not going to happen. I'd be stepping up on a 20″ box instead (that was plenty hard!). I would be slinging the 20 pound medicine ball but not releasing it up the wall or barely releasing it depending on how I felt. I can tell you I did successfully finish 2 full rounds to the cheering and encouragement of Steve, Pat and everyone else at CrossFit Acro that morning. Guess what? I didn't die! I actually came back Tuesday for my next WOD.
I have now successfully finished my 5th week of CrossFit. I've been 4 times per week for a total of 20 WOD's so far! I've experienced exercises I didn't know existed. I've learned I can do more than I ever thought possible. I've sweat like I've never sweat before. I've laughed, I've grunted, I've groaned. I've thought, "I'm not sure I can do this" and continually been encouraged I can do it- and realized I CAN! I'm happy to report I'm down about 7 pounds so far! I've also lost OVER 2 inches off my waist plus an inch off my hips and you can see my face getting smaller again. I've dropped a full belt size and I'm wearing clothes again that I hadn't worn in quite some time. I'm so excited about these positive changes in my journey to health and fitness!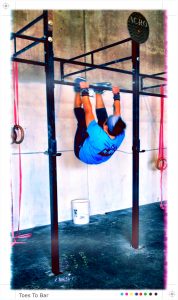 I love that every single day is a different workout that has been selected by the owners/coaches for us. We all collectively do the workout together (yet at our own levels) and are there to cheer each other along. Sometimes we work together as teams, sometimes we compete for time. Sometimes it's AMRAP (as many reps as possible). Yes, there is a whole new language to learn at XF (CrossFit). You'll catch on pretty fast. I promise. ;) Over the years, how many of us have joined a traditional gym; shown up occasionally; wandered around, unsure of what to do? Maybe we take the elliptical machine for a spin or perhaps play on some of the machines but feel unsure about what's best for getting yourself into great overall physical shape – and then head home, wondering why we're not losing weight or getting healthier. You may think you're too old for getting started. I've worked out alongside a husband and wife who are 69 and 71 (and they passed me up)! I love that they really focus on you learning the proper techniques so you won't hurt yourself. Form over weight makes such a difference. The accountability and encouragement of your fellow CrossFitters and your coach is amazing! It really will make a huge difference in your journey to a healthier life.
In addition to the strides I've made with my weight I'm also seeing progress made toward the daily WOD's. When I began I told you I was stepping up on the 20″ box and struggling to do it. Well, this last WOD I completed 75 FULL JUMPS on that same 20″ box! I still cannot do a pull-up on my own but I am getting closer every day to getting myself up to that bar without the help of that black rubber band. I had never done a single hand stand in my entire life much less try doing a push up while in a hand stand position. On August 28th, 2013 I did my first ever handstand against the wall (thank you, Steve, for spotting me). I look forward to going to the box each day knowing I'm getting stronger and lighter. It feels good!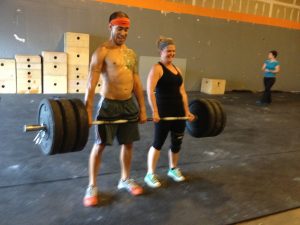 I want to thank everyone that's been so supportive in my journey thus far: my wife Stephanie, who's been so happy to see me getting healthier so I can have a longer life with her! Pat, without your push and encouragement I'd still be looking at a scale with who knows what number on it. Owners/coaches Steve and Riss. You two rock and I'm so thankful for your passion and love of seeing us all get more fit. Coaches Shanna and Chad, thank you for your help and instruction as well. To my fellow CrossFitters, THANK YOU for being my biggest cheerleaders. Elizabeth, Colleen, Susan, Biggs, Ciara, Laura, Toni (thank you again for getting me moving when I didn't think I could anymore), Nancy, Lila, Marc (you have a coach's heart), Bryan (thank you for carrying that extra round when I couldn't do the full back and forth), Mindy, Jill (it's great having another old friend to work out with once in a while), Cathy (make sure to visit whenever you're in town) Ketmany, Kym, Justen and all the others I've worked out alongside. You have no idea what a support system you are. It's huge and I thank you! As my friend Momma Joan from Hawaii likes to say, you've become my CrossFit Ohana.