Before relocating to the Vancouver, WA area a year ago, I had lived in the Seattle / King County area my whole life. While growing up there, I was always trying to find fun places to go that were free, cheap and fun and I kept a list in my wallet of all sorts of cheap date ideas. Some of my favorite places are gone now; many new places have emerged that are not on this list; it may not be considered a perfect and complete list… but it's my list. This is from a "sticky note" I have had in Outlook since 1997 after transcribing that worn out piece of paper from my teen years. Many of these places hold a special place in my heart and bring back fond memories I'd shared with friends.
I enjoyed showing these landmarks to friends and buyers relocating to the Greater Seattle area when I sold real estate there from 2004-2011 and I hope you'll enjoy seeing these sites, too. If you're thinking of buying or selling property in the Greater Seattle Area, please get in touch with me because I have very close ties with some excellent and trustworthy real estate brokers.
If you find this post useful or you have questions, please comment below. I'd love to read your stories. Thanks!
Things for the Seattle Tourist to See:
The CRAZY amazing house featured in The May 20, 2007 Seattle Times "Pacific Northwest" magazine (reminds me of a decorated teapot): 2018 Nob Hill Ave N. Seattle, WA 98109-2546. "A Victorian dream house built in 1906 is a vision of silk and stencils and period pieces galore."
Covington Landmark: a beige house with white trim and red door on 161st Pl SE in Covington (between Kent and Maple Valley, where they meet Auburn) – they have FAKE PLASTIC GRASS!
Kurt Cobain's house, where he died (171 Lake Washington Blvd. E. Seattle, WA 98102) & the memorial bench next door at Viretta Park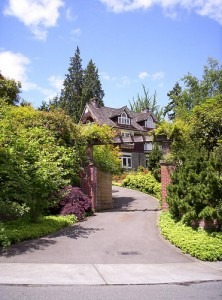 "Come As You Are" sign in Aberdeen, where Kurt Cobain was raised
The apartments at E. Thomas St & 18th Ave E. in Seattle – this is the apartment building where the characters in the 1992 or 1991 movie "Singles" lived.
The OK Hotel (I think it's gone now, but I used to see live local bands play here and it was also a coffee house. It was featured in the movie "Singles".)
The house where The Real World: Seattle people lived (Pier 70)
Highway 99 is the best way to enter Seattle! It's so scenic and beautiful as you approach Downtown.
Safeco Field– I remember when the famous Kingdome was demo'd and dust filled the Puget Sound (March 1999, I believe). I attended so many Mariner's and Seahawks Games as well as a few Home Shows there. But we have a better stadium now! I will always remember attending the inaugural Mariner's game when "The Safe" opened July 15, 1999. It's famous for its retractable roof – very important for the rain we supposedly get all the time. GOOO M'S!
Quest Field– The Seahawks and Sounders have their own stadium, as well. GOOO 'HAWKS & SOUNDERS!
Bruce and Brandon Lee's graves at Lakeview Cemetery on Capitol Hill – Bruce's headstone looked worn out after Brandon's shiny headstone appeared once he died filming "The Crow" in 1993. Bruce's headstone got a facelift and a bench was added shortly after the installation of son Brandon's headstone.
Jimi Hendrix's headstone used to be a modest, flat, regular headstone set in the grass near the infant section of Greenwood Memorial Park off 4th (a.k.a. Cemetery Road) in the Renton Highlands. However, in the late 2000's it was moved & remodeled into a gazebo near the parking lot. His old grave-site had been worn down by all the visitors of this incredible musician.

The beautiful Pergola/Trundle in Pioneer Square, which was rebuilt after a public utility truck accidentally caught it and destroyed it in the early 2000s
Boren Park– there's a park with an amazing view across from Lakeview Cemetery on East Olin St. and 15th by the beautiful turn-of-the-century homes. Here's the view but it's better in person.

Broadway Dance Steps all over the sidewalks on Broadway, on Capitol Hill in Seattle – fun dance steps embedded in the sidewalk

Dick's Drive-In– this is a walk-up-to restaurant that is famous for their shakes, greasy fries and DELICIOUS, juicy, affordable, arguably-the-best cheeseburgers in Seattle! Local Seattle area rapper Sir Mix-a-Lot mentions Dick's in a song or two. Dick's is located in several areas in Seattle – just Google /Yelp them to find one near the location you're in.

Broadway New American Grill – yummy, healthy, fresh food on Broadway, Capitol Hill. They have a really bountiful selection of vegetarian dishes. I haven't eaten here in years, so I don't know if it's still around.
Orpheum Records – great indie CD store on Broadway, Capitol Hill & they sell posters and records on the 2nd floor (Sad! I think Amazon.com put them out of business because they're gone now.)
Jimi Hendrix statue across from Seattle Central Community College (SCCC), where I took Graphic Design & Illustration classes on Broadway on Capitol Hill
Espresso Vivace Roasteria (901 East Denny Way, Seattle, WA 98122) -I l once read an article saying that Emeril (BAM!) says you must go here, and it's always been a favorite place of mine but you'll smell like coffee beans if you go there. They roast their own coffee at this location, and it's really delicious! Star-what? Forget that other famous Seattle coffee company – you need to try Vivace's. They always do a pretty decoration (like a leaf or heart) with the foam. Make sure you check out the Etch-a-Sketch on the wall. It is an amazing "sketch" of the inside of the coffee place! This is off Broadway, near Jack in the Box and Kinko's.
Bauhaus Books & Coffee – an old favorite haunt of mine serving a handful of foods and lots of delicious hot and cold drinks. There's a second floor and a 2 story bookshelf, complete with a sliding ladder. This is just up the street from the Paramount Theatre and near Seven Arms (I wonder if that place is still around). It's always crowded, so if you are lucky enough to get a table, STAY PUT. 301 Pine Street.
The Rainier Chapter House, which is a George Washington Replica House off Broadway by Cornish College of Arts (actor Brendan Fraser attended Cornish).

The Wall of Gum in Post Alley, attached to the north side of the Pike Place Market. This disgusting wall has been covered with a gross rainbow of chewed gum. I think it started in the early 1990s when I used to stand in line to go to Theater Sports at Unexpected Productions in Post Alley. Joel McHale was just starting out here as an actor.
SAAM (Seattle Asian Art Museum) – GREAT Asian Art Museum and beautiful park! Lots of flowers and outdoor art, perfect for posing for pictures with friends!
Volunteer Park, 1247 15th Ave E., Seattle (Capitol Hill) – very close to SAAM
SAM – This is my favorite art museum!
SAM's Olympic Sculpture Park – this is a fantastic place for taking very interesting photos! Try this link, as well – it's a guide to the park.
The Gum Wall in Post Alley, on the south side of the Pike Place Market.  I remember waiting outside in line for Unexpected Productions' Theater Sports to begin late Friday and Saturday nights in the early 1990s and I watched people stick their gum on this wall. I have to admit, I have added some gum to that wall back in the day and it's not one of my prouder moments.  Over the last twenty years, it has become quite a disgusting rainbow of chewed up rubbery morsels.  I should mention that Joel McHale was our favorite hilarious improv actor at Theater Sports and sometimes I would snag tickets to see KING 5's Almost Live recorded – Joel was on that show before he became famous.

The EMP, Experience Music Project – if you like music from the 1970's, you may enjoy this musem, and sometimes they have live music and good exhibits. Frank O. Gehry is the futuristic architect behind the eye-sore, as well as the Guggenheim, Sydney Opera House and other odd or amazing buildings. More can be read about the project design here.

Fremont Rocket– there is a cool rocket that blows smoke in Fremont! It's made of a real 1950's rocket.

Lenin Statue in Fremont Lenin Statue: 600 N 36th, Seattle, WA. Directions: North 36th St. and Evanston Avenue North, just north and west of the Fremont Bridge.

The Fremont Troll– he is made of clay; holds a real VW Beetle in his clutches and lives under the Aurora Bridge at N. 36th Street – GREAT photo op!!!

Wallingford's "The Wall of Death", an outdoor art installation, located under the University Bridge in Wallingford (Seattle). Cool photo op, but very strange.

The Crocodile Cafe – lots of famous bands have played at this indie club
The Moore Theatre – beautiful architecture inside, and lots of great bands have played here. This is my favorite venue – not a bad seat on the floor – you feel like you could reach out and touch the stage.
The Paramount Theatre – another historical, beautiful building with lots of musicals and musical artists performing here regularly.
5th Avenue Theatre – ditto! Also a great place for plays. 1308 5th Avenue, Seattle
Pacific Place Mall – high end shopping mall with cheap or free parking. 6th Ave. & Pine Street, Seattle
Niketown – Nike's 2nd official Niketown store, 1500 6th Avenue, Seattle 98101. The first Niketown was in Portland, Oregon, where Nike headquarters is located.
GameWorks – the very first Game Works opened in Seattle in 1997 (1511 7th Avenue, Seattle)
Nordstrom – the downtown store was the 1st Nordy's and is an icon! Called the Flagship Store, it's located at 1601 – 2nd Ave. Seattle, 98101
Sit 'n Spin – never mind, this Belltown favorite (2219 4th Ave) is CLOSED! :( I used to see concerts here, play board games and eat with friends and do my laundry while snacking on hummus and pitas! I am so sad one of my all-time favorite places has closed.
Kerry Park – in Queen Anne, this has the BEST view of the Space Needle and it's a pretty park: 211 West Highland Drive, Seattle. You would not be the first one to get engaged here or take a large family photo.  I seem to see those things happen every time I visit this crowded park.  It's in a residential area, but you can't miss it because a lot of people know about this park with the million dollar view and it can be tricky to find street parking.

Bhy Kracke Park (Queen Anne) 1215 5th Ave. N. – this is my faaaavorite park! It's on Queen Anne in a neighborhood and it has 2 levels. I can attest that it has GREAT views of fireworks on July 4th!

Gas Works Park – My 2nd favorite park! It's fun to canoe here – I have canoed to Gas Works once. Built on a former gas plant, it's industrial, has a great view of the Needle and Lake Union and has a fun hill to climb. Dog friendly! Go on Tuesday nights in the summertime and watch the boat races! I used to grab an "Organic Drift" pizza from Zeek's Pizza(MY FAVORITE) at 41 Dravus St., Seattle, WA 98109 and eat it on a bench overlooking the water at Gasworks Park.

Archie McPhee's in Wallingford, just west of Dick's – looking for the weirdest gifts EVER? Then you must come to this original store – they have weird plastic 1950's toys and other silly retro fun, kitschy gifts.
Gasworks Park Kite Shop – I still have a button I got there as a kid and it aptly states, "Go Fly a Kite."
Kenworth plant (Green River killer was captured while working here) – I used to work at PACCAR Parts which is 1 parking lot away from Kenworth in Renton. I was at work when he was captured and I saw the news reporters and helicopters! It's right across from PACCAR Parts, which is 750 Houser Way N. in Renton.
Cool house in Kent where the drummer from local rock band HEART used to live – people call it "The Taj Mahal" because it has a crazy red roof and elaborate architecture. It's off 240th in Kent, past 156th.
Hat & Boots near Michigan Street in Seattle
Kent, WA signon James St. & Kent-Des Moines Road just down the hill from the exit off I-5 (drive east)

Best WA Golf Courses – I found this list for any golfers out there but with Yelp's popularity, that may be the best place to check
Mt. Rainier– we are the home to the highest mountain in North America (14,411 feet tall)
If you liked this post, you may also enjoy "Fun Facts About Washington State."